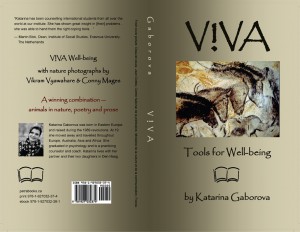 By Katarina Gaborova
V!VA Tools for Well-being
Is a convenient small sized paper format book that serves as a pocket life coach.
This book has been designed for anyone interested in his or her own personal development. It can be also used as an additional tool in therapy for counselors, psychologists, life coaches, social workers or other therapists who work with their clients on enhancing their mood and try to bring out the changes of behavior.
The uniqueness of this book lies in the form of cards. Each card presents a new idea reinforced by a rhyming quote paired with complementing beautiful photography meant to get you in touch with nature. Each pair is accompanied by constructive, educational text providing examples and tools to overcome certain daily issues.
Hard copy of the book can be ordered via  Petra Books
e-book also available on:
Proud to accept an invitation to present at the TED X event at the Haagse Hoge school, in the Hague, Netherlands.